News Network(Reporters Zhuo Zhangpeng and Fu Xinyi,Correspondent Cheng Linghua, Photographers Xu Zhichi and Peng Jia) "Together we strive. Together we dream. We treasure the same love in our hearts…" On the afternoon of May 26, 2022, the Award Ceremony of the Fourth Ethics Award of Excellent Morality of ZUEL began with the songLet the World be Filled with Love. The ceremony lasted 90 minutes amid over 60 rounds of applause. Luan Yongyu, Secretary of the Party Committee and other university leaders, Xu Dunkai, former Secretary of the Party Committee, Xia Jing, Hubei bureau chief of Guangming Daily, recipients of the awards, guest presenters, heads of Schools, and teacher and student representatives and alumni representatives attended the award ceremony.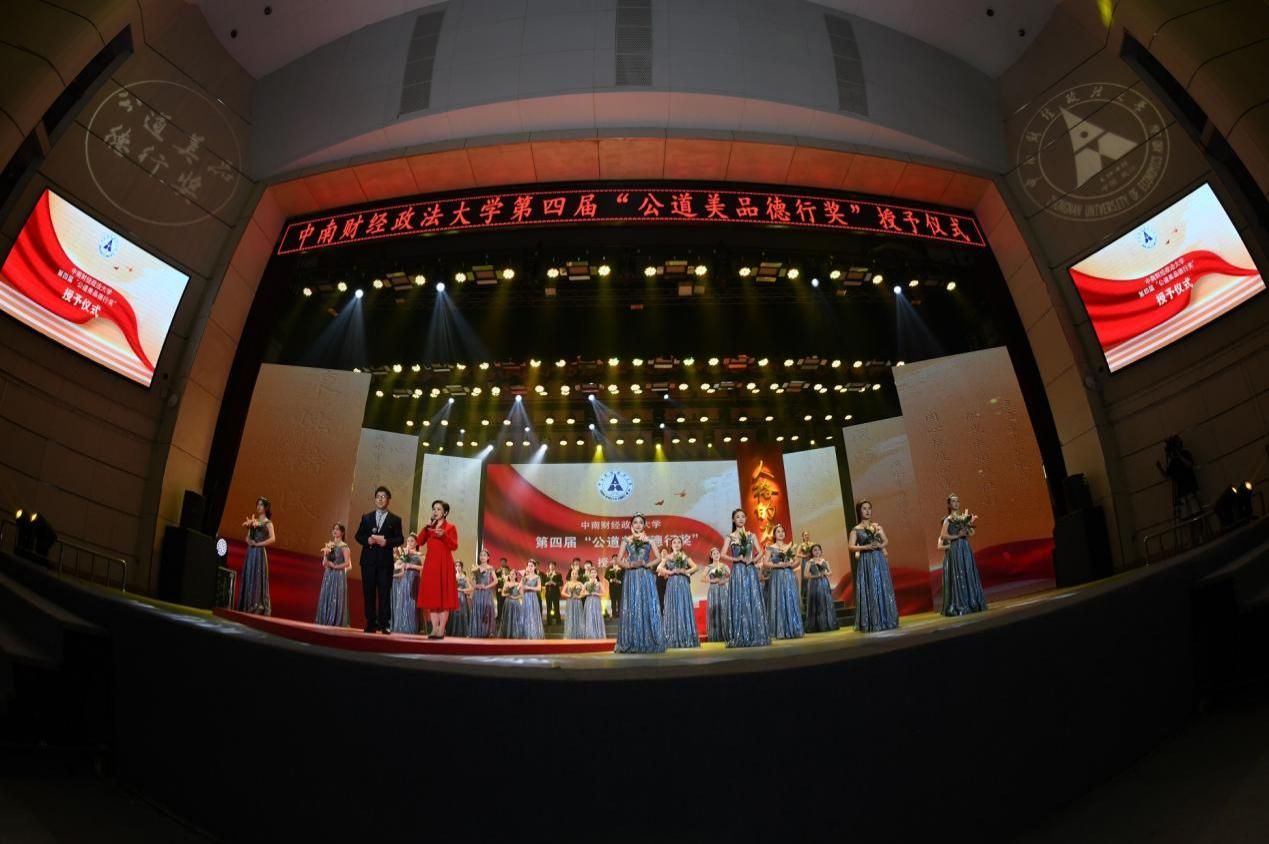 The opening chorus Let the World be Filled with Love
The ceremony was hosted by Wu Yulan, the recipient of the third Ethics Award of Excellent Morality and professor from School of Journalism and Culture Communication, and Nijiati·Aimaiti, the recipient of the inaugural award and student counselor of School of Business Administration. The scrolling pictures on the screen showed glorious deeds of former recipients, with gold characters "The Power of Character" glittering on a red panel by the screen. This year, the Ethics Award of Excellent Morality has four categories, anti-poverty, war on COVID-19, education, and volunteer. 20 teams or individuals were nominated, among whom 10 were selected as overall winners and the other half were rewarded with the nominee recognition award.
The video Anti-poverty: Micro-Efforts Can Have Macro-Effects tells the stories of alumni Sun Jian and Chen Minjian and a group dedicated to anti-poverty through education in Yunnan province. The donation of 30 tons of provisions and protective supplies worth more than 200 million yuan, theendowment for education and talents training, and theirvolunteer work to help respond to the COVID-19 pandemic demonstrate the persistence and commitment of ZUELers to poverty alleviation and rural revitalization. The video War on COVID-19: We Are Here for You shows the efforts of Xia Kai and Guangxi Alumni Group to combat the virus. "A good teacher is the hope of a nation and is needed by its people"——the video Education: A Lifetime of teaching and Enlighteningtells the stories of Yao Guirong, professor fromSchool of Marxism, Xie Qun, former dean of School of Foreign Languages and former Chinese dean of the Confucius Institute at Stony Brook University in New York, and Liu Hongmei, party branch secretary and deputy principal of the kindergarten of ZUEL, who received the award in recognition of their commitment to nurturing talents behind the small podium for more than 30 years. The video Volunteering: Keep the Torch of Dedication Alive tells the stories of Su Zhengmin, an undergraduate of ZUEL, and Zhong Kaiwei, a postgraduate fromSchool of Public Administration and now counselor of Law School, who actively participated in voluntary activities like blood donation and anti-poverty through education, and led other young people to devote themselves to volunteer services.
Luan Yongyu, Secretary of the Party Committee, and 6 students from Yanjin Country, a pairing-assistance area of ZUEL, presented prizes to the winners of the award of "anti-poverty" category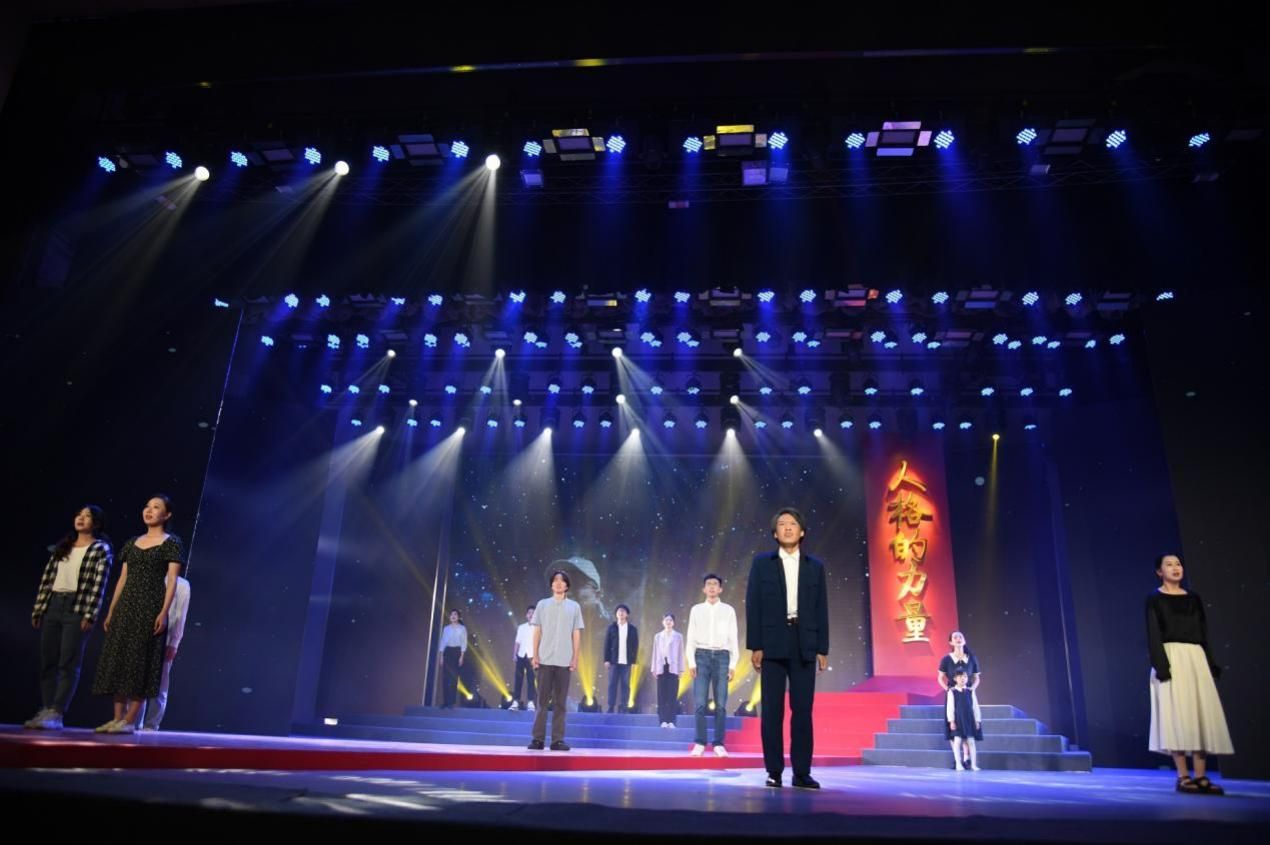 Situation poem: How Are You Doing Up There in Heaven?
Secretary of the Party Committee Luan Yongyu presented the awards to Sun Jian and Chen Minjian (whose classmate, Wu Jing, received it on his behalf). "He fully lived up to the belief of a communist and will always live in our hearts." Wu Jing choked up several times as she stood on the stage. Reflecting his memory that lives on in the hearts of his family, teachers and classmates, fruit and bee farmers, elderly villagers and homecoming youth, young poverty alleviation cadres and the succeeding secretary, the situation poem How Are You Doing Up There in Heaven? is in honor of Chen Minjian, who gave his life for the poverty alleviation.
Xia Jing, Hubei bureau chief of Guangming Daily, presented awards to the winners of the award of "war on Covid-19" category
Xia Jing, Hubei bureau chief of Guangming Daily, presented the award to Guangxi Alumni Association and Xia Kai, an alumnus from the class of 2021 of School of Business Administration. Holding the trophy in his hand, You Fenghua, Secretary General of Guangxi Alumni Association, said that he was honored to return to his alma mater as the representative of Guangxi Alumni Association, and Guangxi alumni would go where the people need no matter where they are. Xia Kai wrote in his diary, "We ZUELers will be in any places where the country and its people need us."
The six students, who presented the award to the group dedicated to anti-poverty through education in Yunnan province, come from a pairing-assistance area of our school: Yanjin County, Yunnan Province. Because of this special bond, they chose to apply for our university in the hope of passing on their love and building their hometown with the knowledge learned in ZUEL. "Gong Jiayou, the teacher who went to help the poor, as well as the school counselor have visited my home many times, which makes me feel the meticulous care of ZUEL, so I thank her for bringing me warmth." Student Zhou Zeyuan said.
Chinese and international students and their parents present awards to the winners of the award of "education" category
The awards of the "education" category were presented by both Chinese and international students, as well as the parents of students taught by the recipients. "As both my first kid Beibei and my second kid Guoguo spent their preschool years in the kindergarten of ZUEL, my family have a 20-year friendship with 'Mum Liu'," said Xu Jiang, Deputy Secretary of the Party Committee of School of Philosophy, when she presented the award to Liu Hongmei together with her kid. Presenting the award to Professor Xie Qun was Moba, an international student from Afghanistan. Both Professor Xie and Moba had the experience of living in a foreign country. "We are grateful for our teachers who always give valuable guidance to us and take the greatest possible care of us," Moba said in Mandarin instead of his mother tongue. "We must educate students with love so as to fulfill our mission of cultivating talent for the Party and the State," said Professor Yao Guirong from School of Marxism said when receiving the award. Then she added, "As a teacher who has been teaching ideological and political theory courses for 34 years in ZUEL since 1988, I have no complaints or regrets about my career!"
"I hope Kaiwei will take this award as an opportunity to be the bosom friend ofyoung people and encourage them to make their contributions in places where the people need them most," Wu Jinyin, Secretary of the Party Committee of Tangzhuang Town, Xinxiang City, who was honored as one of The Most Outstanding Contributors Since the Foundation of People's Republic of China, said when he presented the award to Zhong Kaiwei via video. In 2019, Wu Jinyin was invited to attend a demonstration training session for young Party cadres from colleges and universities. During this training session, Zhong Kaiwei had an in-depth discussion and interaction with Wu Jinyin and they exchanged their emblems of the CPC after the lecture. "I will pass on the love and strength that Secretary of the Party Committee Wu has brought to me to more young people and we will devote ourselvesto the places where the people need us," said Zhong Kaiwei on the stage.
Awards of "volunteer" category were presented by relatives of the recipients
Su Zhengmin's sister Su Jiajia came from Southwest Medical University to present the award to her brother. She said, "My brother sets an example to me. Under his influence, I also participate in voluntary activities like blood donation. In the future, I will return to Liangshan Yi Autonomous Prefecture and contribute to the development of my hometown". Invited by ZUEL, Su Zhengmin's mother, Ji'er Gege, came all the way from her hometown to Wuhan. At the award ceremony, Su Zhengmin said, "It is a memorable moment in my life to receive this award at my alma mater with my mother and sister presenting on the stage together. I'd like to express my gratitude for the recognition and trust of my alma mater which moves me so much. I will always remember the education I received and make contributions in places where the people need me." Then he gave the trophy to his mother, who later sang a folk song of Yi ethnic group Don't Be Afraid.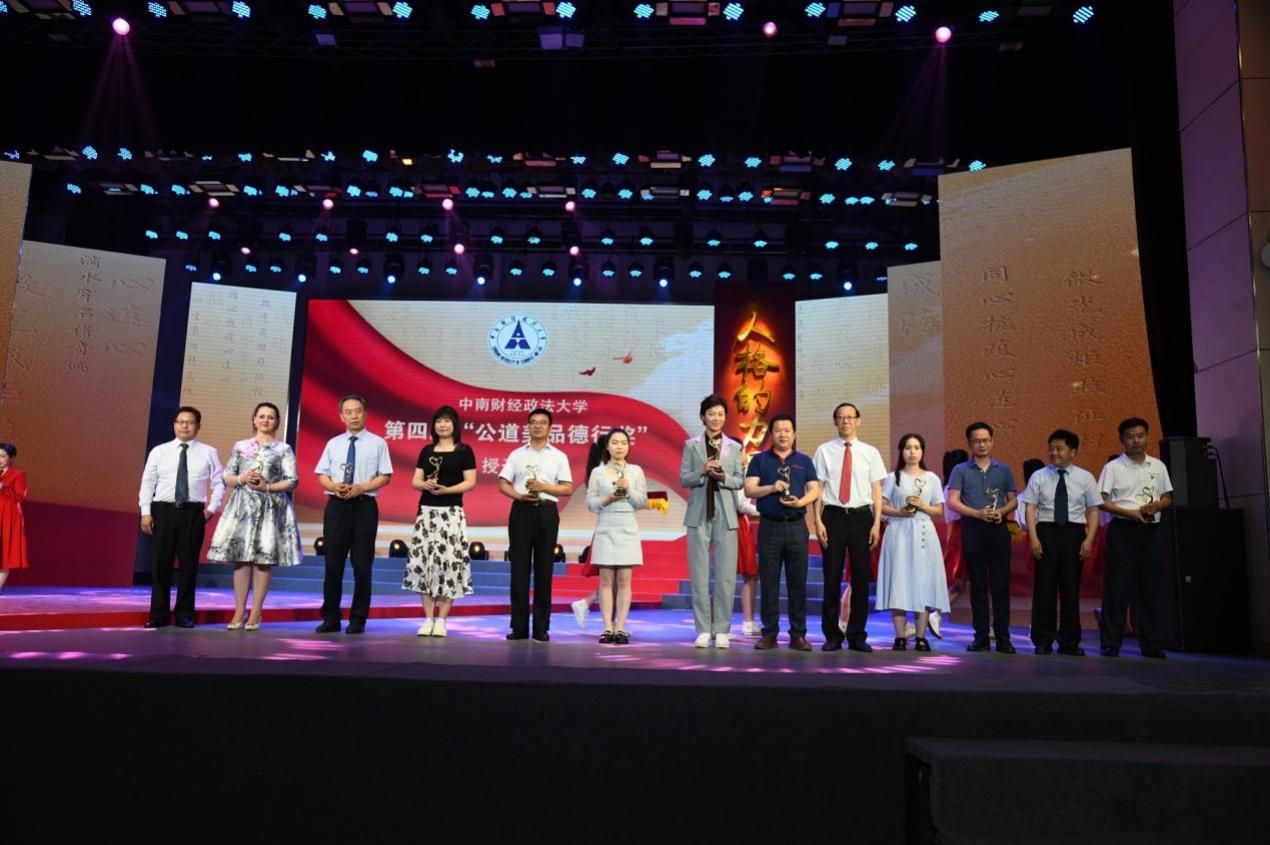 This year's nominee recognition awardswere presented by former recipients
The video Sea of Stars tells the stories of 10 nominees who have made great contributions in their own fields. The nomineeswere Volunteer Service Teamof School of Foreign Languages named "Connecting the World with Language for Combating COVID-19 Together", Innovation Team of School of Statistics and Mathematics, Xu Tang, Director of the Publicity Department of the forth Party Committee of our library, Zhang Yan, teacher of Department of Sports, Jiang Rongying, undergraduate from School of Economics, Huang Xiaowu, professor from School of Finance, Tong Jijun, head of Order Maintenance Section of Security Department, and alumni Sun Daijun, Li Honghan and Zheng Wei. The former recipients, Zhang Ruitang, Tang Xiangxi and Yu Qijun presented the Nominee Recognition Awardsto those nominees.
"We want to build a bridge between Chinese and foreign people to make China's voice heard in the rest of the world," Fang Wei, a foreign teacher from Northern Macedonia, who has lived in Wuhan for 15yeas, said on behalf of the Volunteer Service Team of School of Foreign Studies in fluent Mandarin.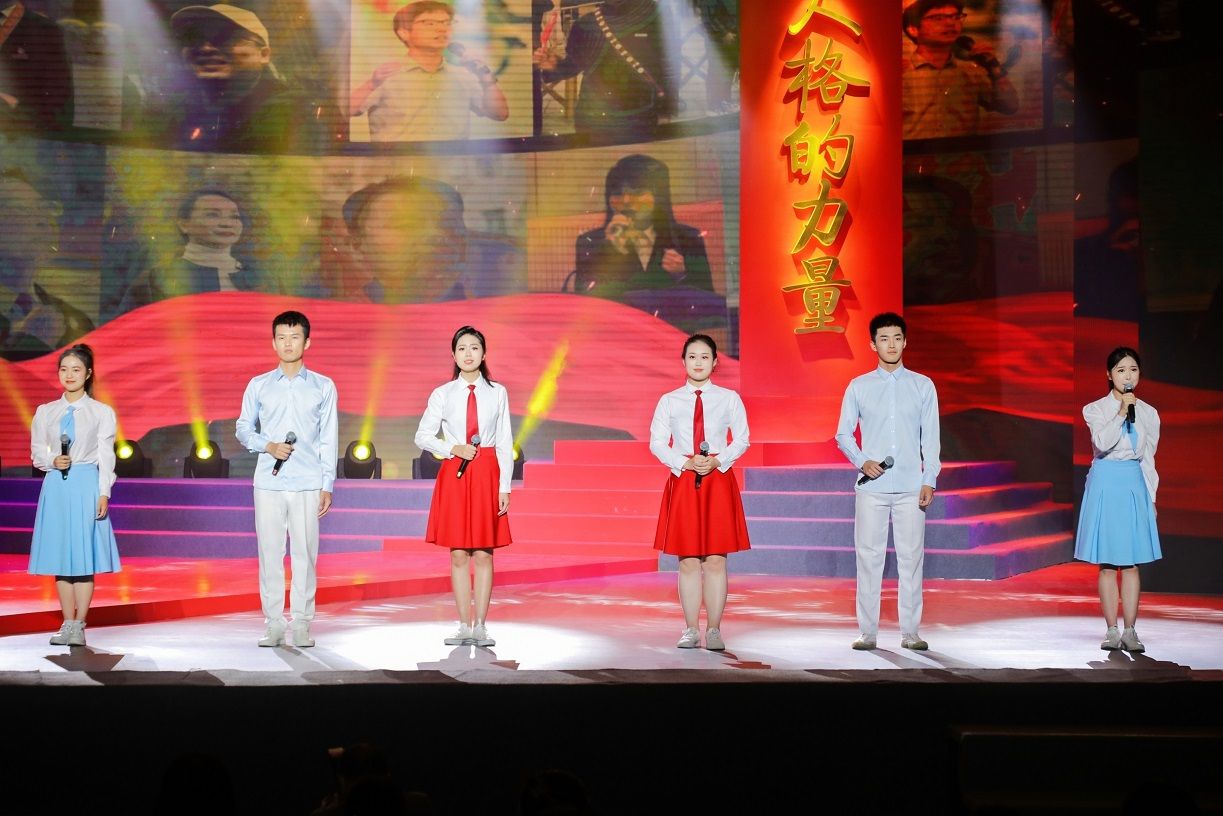 The poetry reading: The Power of Character
"You will never succumb to hardships thanks to the power of character around you…" The inspiring poetry reading and chorus ringed the ceremony. The recipients also received extra presents like their student registration forms.
"ZUEL is a brilliant university with the precious revolutionary traditions and rich cultural heritage. 'Go where the people need us' is not only a line of the lyrics of ZUEL anthem, but also the firm conviction of every ZUELer. Selecting Ethical Role Models from ZUELers biennially and telling inspirational stories about their contributions to our country and people at the ceremony are significant measures for inheriting the spirit of ZUEL and bolstering the socialist values, as well as creating a better environment for learning from the examples and promoting virtues in the whole university. It will also provide positive impulse and moral nourishment for the high-quality development of ZUEL", said Luan Yongyu.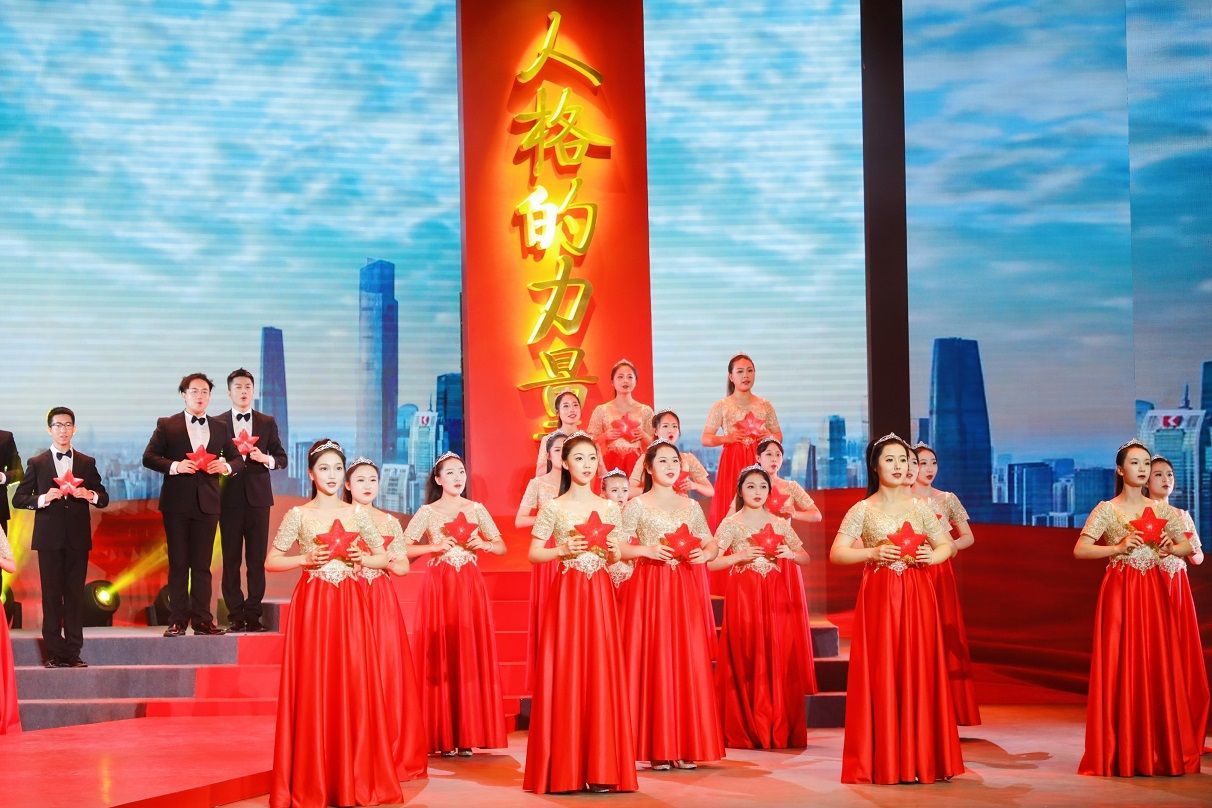 "The experience of receiving the award from people important to them—their teachers, classmates, siblings or parents on this special stage is more valuable than the trophies per se," said Deputy Secretary of the Party Committee and President of ZUEL Yang Canming. "Everyone's contribution will be cherished in ZUEL. Although the presenters and recipients are ordinary people in various fields, they represent not only themselves, but the spirit of ZUEL. We will take this opportunity to show the contemporary educators' power of character and historical missions."
"Apart from evoking my youth, it helps me remember where and why I started," said Zhou Wei, a standing member of the University Council of ZUEL, head of the Publicity Department of the CPC ZUEL University Committee & Information Center, and dean of School of Marxism. He explained that since the founders of ZUEL who fulfilled their tasks with lofty convictions established the revolutionary tradition, the "red gene" has been inherited by every ZUELer. As an indelible enrollment material, the student registration form will reveal its extraordinary value once he or she finds it the beginning of a long and tough journey to improve his or her character and spirit when looking back on his or her youth.
As the art advisor of this Award Ceremony, Duan Qing, an acclaimed director, has participated in the planning, management and rehearsal of the ceremony since last October. He said that this ceremony, with special individuals, special stories, special enlightenment and special love all in one, serves as a vivid "ideological and political theory course" to share meaningful stories in a novel way and help ZUELers understand the power of character.
"Those winners and nominees have radiated the same charismatic light despite their different vocations and situations. I'm deeply moved by their deeds. In particular, stories of the team who devoted itself to poverty alleviation through education in Yunnan bring back bittersweet memories of my volunteer teaching in Jiuquan, Gansu province." Li Shuangqing, a student from the Department of Procedural Law of the Law School, said.
The group photo of the closing ceremony
With the strong support of our alumnus Wang Guangxi and a couple who retired from ZUEL, the biennial Ethics Award of Excellent Morality was officially established in 2015 as an award given to those alumni, faculty and students of ZUEL who have achieved extraordinary performance in social morality, professional ethics, family values and personal character. During previous four award ceremonies, 64 nominees, including individuals and teams, were granted the award out of which 37 received the main awards and 27 were presented with the nominee recognition awards. As ZUEL's first award in ethics, Ethics Award of Excellent Morality has become a vivid "ideological and political theory course" to promote social morality, uphold professional ethics, inherit family values, and strengthen personal character.
Planner

Feeds

Creation

Articles

Pictures

Editors

Designers

Translators

English Editor