On 29th August, the inauguration ceremony of the Alliance for Economics and Management Education (AEME) was held at the permanent venue for the China-ASEAN Education Cooperation Week in Guiyang, the capital city of Guizhou Province in southwest China. Zhongnan University of Economics and Law (ZUEL) officially joined the AEME at this ceremony. Yang Canming, president of ZUEL and deputy secretary of the ZUEL party branch, along with Xu Diyu, deputy president of ZUEL, and Zheng Ying, dean of the International Education School and director of the Hong Kong, Macau, and Taiwan Education Center of ZUEL, were present at the ceremony and the 1st Plenary Meeting of the AEME.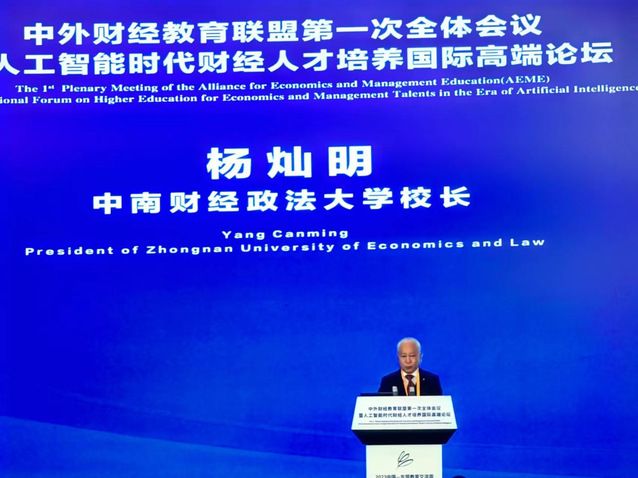 Yang Canming delivered a keynote speech with the title "Fiscal Governance and Talent Cultivation in the New Era" at the International Forum on Higher Education for Economics and Management Talents in the Era of Artificial Intelligence. He noted that we must accelerate the development of a new education and teaching ecosystem with the help of technology application, facilitate the integration and reform of talent cultivation concerning institutional mechanism, and update the way of thinking and improve the cultural literacy. Meanwhile, he stressed that the new round of scientific technological revolution represented the trend of the times. Therefore, we are supposed to make good use of this opportunity and integrate the advancement of new technologies with discipline construction and talent cultivation in order to make greater progress in the economics and management education in the new era. He sincerely hoped that all the members of the AEME could seize the opportunity and make joint efforts for the leapfrog development and a promising future.
With a global vision, the AEME is dedicated for education, openness, innovation, and value co-creation. It sticks to the idea of collaborative innovation, openness, and sharing. The AEME aims to establish a platform feathering innovation, harmony, and sustainability to share economics and management education resources. It is to boost the coordinated development of the industry, education, and research by launching and advocating cross-border cooperation among multiple industries.
The AEME is an academic, nonofficial, and non-profit organization launched by China's Central University of Finance and Economics in Beijing and voluntarily participated by universities and enterprises around the world, including 121members from China and many other universities from the United States, the United Kingdom, France, Australia, Singapore, Malaysia, Thailand, Vietnam, Laos, Myanmar, Greece, Argentina, and Chile.