News Network (by Huang Yan, Hou Zihui, Zhu Xinyi) On the afternoon of March 29th, a mellifluous chanting voice can be heard from Xi Xian Ling, which is located on Nanhu campus of the Zhongnan University of Economics and Law(ZUEL). This was the opening ceremony and also the debut for "Leaning from Traditional Chinese Classics", one of the series activities with the aim to bring about excellent style of study in the university. President Yang Canming and Vice-president Qin Hong attended the event.
In his speech, Professor QinHong shared his understanding on "WeiXue" (to learn), the theme of this event. WeiXue, he said, can be explained from three aspects, namely, "tolearn","why to learn"and"howtolearn"."To learn"represents the attitude and action of the learner."If you do it,a difficult thing could be easy;but an easything could be difficult if you don't". He quoted from an old saying in Chinese."Why to learn"indicates the motivation,which sets a goal for you.As China's famous educator and philosopher Wang Yangming (1472-1529) put it, "If you are determined to be a man of virtue, you will be the man." "How to learn"expresses the study methods,which refers to learning choices. Professor Qin hoped that ZUEL students be brave enough to explore the world and at the same time bear the well-being of the people in their mind. What's more, they should learn from Chinese classics and fulfill the school motto. In a word, they should make the best use of their time to attain both technical and practical knowledge and skills.
Vice-principal Qin Hong is giving a speech.
President Yang Canming inscribed '为学中南(Study in ZUEL)' in the hope that the students study hard ona solidground. Aijing, an international student from Turkmenistan, and Liu Zhixu, a Chinese student, showed their calligraphy by writing down "问学典籍(To Learn Chinese Classics)". Here, both teachers and students shared their love for traditional Chinese culture, and Chinese and foreign students accomplished the same piece of artistic work together.
President Yang Canming is inscribing.
Chinese and foreign student representatives are showing calligraphy.
With spring birds chirping among blooming flowers, it was just the time for chanting classical poems. Jiang Jinyuan, the vice professor of Department of Chinese Literature, School of Journalism and Communication, walked slowly along the pathlet and bowed to students with each other . He introduced to the students the historical background of reciting. "The way of teaching and learning classical Chinese poems is reciting and chanting. If one just read, he may not find the beauty of it", Jiang said. When it comes to the excitement, he began to recite "The sunflower in the green garden, the morning dew and the sunrise", and the students recited as well. This set off the climax of the event, with bursting out of warm applause from all the participants. Jiang also told the students about the creation background and theme of the poem 'A Song in Slow Time' of the Han Dynasty and 'For Learning' by Peng Duanshu (1699-1779) of the Qing Dynasty. 'In order to learn, we should emphasize 'action'. Knowledge is the beginning of action, and action is the completion of knowledge.' He encouraged students to cherish the time, focus on learning, and unite knowledge and action.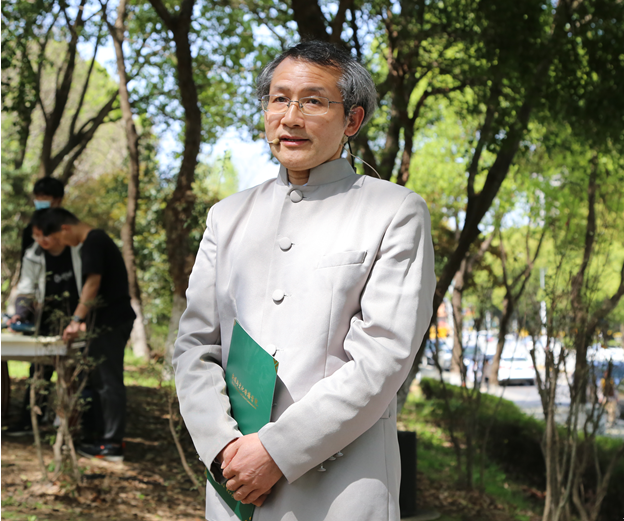 Associate Professor Jiang Jinyuan is lecturing.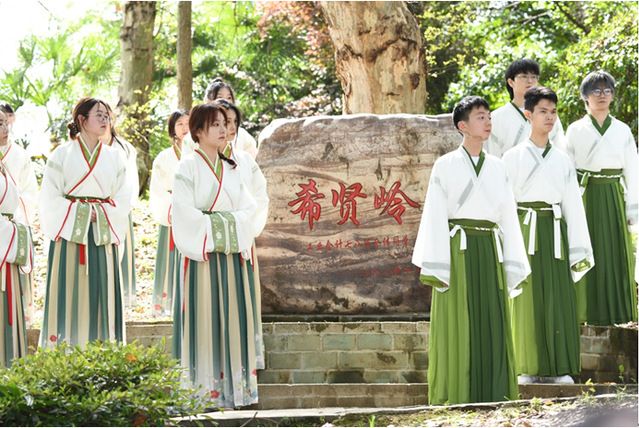 Students are listening attentively to the teacher's lecture.
Many students were attracted and stayed to watch. Among them, there are many international students and students from Hong Kong, Macao, and Taiwan. They said such a novel event would make the traditional culture more "alive" and appealing. They expressed their wish to have more opportunities to participate in such activities in the future so that they could appreciate the tremendous charm of Chinese culture.
"To Learn from Chinese Classics", focusing on classics of traditional Chinese culture, would invoke student's insights and help them seek ways to learn by studying classics and learning from sages. Both teachers' lectures and students' participation created a mode of immersion in students' better understanding traditional Chinese culture.