On the morning of November 1st, 2019, the ceremony for Conferring Zhongnan University of Economics and Law (ZUEL) Honorary Doctorate to Professor Eugenio Gaudio, President of Sapienza University of Rome was held successfully at Zhong Yuan Building of ZUEL. The delegation from Sapienza University of Rome;Deputy Director-General of Hubei Provincial Department of Education, Mr. Huang Guobin;and secretary of the CPC Committee of ZUEL, Professor Luan Yongyu; President of ZUEL, Professor Yang Canming;Vice-president of ZUEL, Professor Yao Li; heads from related functional departments of ZUEL ; deans in charge of International Affairs from various schools of ZUEL and related staff members have attended the ceremony.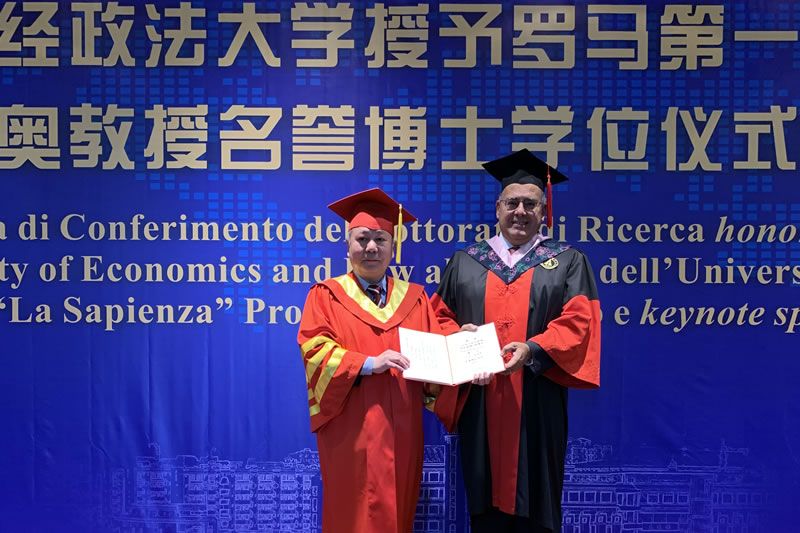 On behalf of ZUEL, Secretary Luan Yongyu addressed all the members present. He pointed out than President Eugenio Gaudio is not only a scholar with many works to his creditand an expert of remarkable influence in world medical research, but also a professional educator with wisdom and virtue. With his amity towards China, President Gaudio has been actively helping to promote the cooperation between universities in Italy and China and improve the educational exchange standard, thus, he has made tremendous contribution to the educational and people-to-people exchange of both sides. Under his direct leadership and passionate assistance, Sapienza University of Rome and ZUEL have established rather close cooperational relation. Supported by the high-level international platform of Sino-Italian Law Research Center, we have achieved outstanding results in international joint education programme, co-cultivation programmeof innovative talents for international organizations, scientific and research cooperation, and jointly holding international academic conference. Afterwards, Secretary Luan announced the document from the State Council on agreeing to confer Honorary Doctorate to President Gaudio.
Then, on behalf of academic degree evaluation committee of ZUEL, President Yang Canming awarded the Certificate of Honorary Doctorate of ZUEL to President Gaudio, and helped him to wear the university badge.
After the degree conferring ceremony, President Eugenio Gaudio gave a keynote speech on the International Destiney of Sapienza University of Rome and its Cooperation with Zhongnan University of Economics and Law". He introduced Sapienza University of Rome's'European Experience' in Internationalization, which aims at the forming of alliance with high-level universities; actively promoting exchange visits of teachers and scientific research staff, especially of the students' studying abroad; and making efforts to promote the "EUErasmus+ Action" and the "Bologna Process" of European Integration. Then, President Gaudio gave a short introduction to the history and present situation of International Exchange and Cooperation between Sapienza University of Romeand Chinese universities, especially the deep cooperation and achievement already made with ZUEL. He also gave a deep illustration to the cooperation between both sides in the Law arena, and has shown his willingness to make further contribution to the joint cultivation of talents, promoting better understanding and friendship, mutual respect and mutual learningbetween both sides.