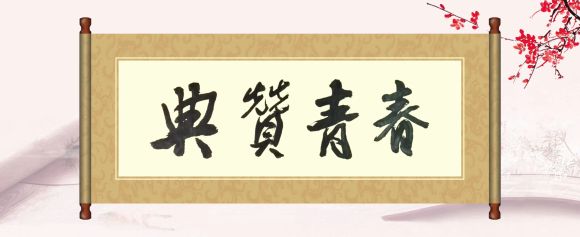 News Network (student journalist: Wang Yuping, Cao Ziyi, WangFengling). On January 4th, the first "Dian Zan Qing Chun" Award Ceremony for 2016-2017academic year undergraduateswas hold in order to promote in-depth advanced models of new era college students and display their good spirit to deliver the positive energy of youth. Many leaders of our school, including our university's Party Secretary Luan Yongyu, President Yang Canming, Deputy Party Secretary Wan Qingxiang, Wang Wenggui, Vice President Yao Li, Liu Renshan and Zhou Jinwen, as well as many scholars attended this ceremony. This event also invited leading experts and scholars of all disciplines of our school and representative teachers popular with students. Also XueRuiqing,vice president of Chinese International Finance Corp; Peng Heng, vice general manager of HR Department of CCB, Hubei Division and Mu Fabing, representative of the founders ofButtonwood Scholarship were all invited as special gusts in this ceremony. In this school year, 12,000 students are awarded the scholarship and honorary title and 60 students are elected to get on the stage through the way of self-recommendation, school recommendation, school selection and etc.
Secretary Luan Yongyu gave the opening speech after the national anthem. In his speech, he emphasized that this ceremony is an event to praise the advanced and establish outstanding models as well as to display youthful vitality and prime. But more importantly, it is an inspection of our talent cultivation ability. This event aims to discover advanced deeds of groups and individuals of our school to construct a youthful school culture to encourage students and teachers to learn from the advanced, aspire for more, always seek the truth and make progress ,stay true to the mission and to be learned, rational, virtuous and devoted. He then said: "I applause for your youthful vitality and move my glow stick for the achievements of our students."
National scholarship, National motivational scholarship, school scholarship, social scholarship, advanced class, advanced individual (advanced student pacemaker and etc) and other types of awards are included in this ceremony. Award-winning Representatives are divided into three categories to receive the awards on stage.
Luan Yongyu, who is our school's party secretary, Wu Handong, who is the director of academic committee and has the title of"Top 50 Global Most Powerful People in Intellectual Property Right Field" and "Wenlan Senior Professor"presented the award for "advanced student pacemaker".
Award of "advanced student leader" was presented by the president Yang Canming and "National Outstanding Teacher" Zhu Xinrong who is a professor in School of Finance.
Film studio of New Media Institution of China and South Korea was in charge of all promotional videos of this event. They put great effort in the script, shooting and editing for the visual feast tonight. A special award of "Advanced Team" was presented to them and others behind the scene for their quietly contribution.
As the first school-level undergraduate award ceremony,this event was well planned and greatly supported by related groups, students and teachers. The student affair department planned and innovated this ceremonyfrom the aspects of content and spread form, using forms that students like (present student models' personality in the form of documentary micro movie; internet with audience through new medialive streaming platform) to enhance students' participation and studentsmodel's influence. "It is our original intention that this platform can be a source of positive energy for more and more people andestablish role models for students and gradually be part of the school culture." explained Mr. Deng Hongjun from student affair department. Owing to the great support of Information Management Department, this ceremony was able to open some live streaming platform like "Zhong Nan Da Micro-campus".