News Network (Reporter Wang Hua) On May 24, Mr. Brian McEnery, the global president of ACCA (Association of Charted Certified Accountants) announced the winners of 2017 ACCA Achievement Award in Shanghai. Yang Canming, President of our university, was honored with the award along with Luo Shuohan,CFO of Tencent, Dong Wei, Vice-president and CFO of NIKE in greater China, and Shao Xinzhi, Global Accountant and Financial General Manager of Haier.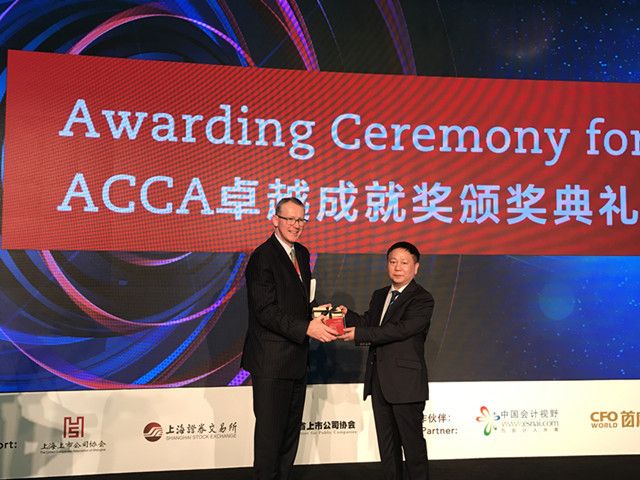 The award words read that President Yang is a pioneer of the internationalization of the accounting education in China. Schools of ZUEL have formed a powerful international faculty for the promotion of the internationalization of the university. As one of the earliest universities to open ACCA class in the major of international accounting, ZUEL have pushed forward the innovative mode of sino-foreign cooperative teaching with one goal, two patterns and three systems, establishing a benchmark for the internationalization of undergraduate education of accounting.
In his award acceptance speech, Yang said that ACCA project in ZUEL has won a good reputation and played a demonstrative role in the past 20 years. We will maintain and strengthen the strategic cooperative relationship with ACCA to constantly promote the healthy development of China's accounting industry.
ACCA Achievement Award, an honor in international accounting industry, is aimed at commending experts and business leaders who have made outstanding contributions to the development of global accounting industry. It not only shows that the winner's personal achievements have got international recognition, but also shows that the winner's contribution is coincident with the core values of ACCA. The award is an excellent sample of responsibility, diversity, innovation, integrity and opportunity.
Since the establishment of this award in 2006,about thirty industry leaders from different fields all over the world have got the award. In recent years, the achievements of China's industry leaders have attracted international attention and more and more Chinese experts have got the award. Previous prize-winners are Dr. Chen Yugui, Vice-chair and Secretary General of CICPA, Professor Huang Shizhong, Vice-president of Xiamen National Accounting Institute, Professor Li Kouqing, President of Shanghai National Accounting Institute, Professor Qin Rongsheng, Chair of Beijing National Accounting Institute Council and President of Beijing National Accounting Institute, Professor Sun Zheng, the former Vice-president of Shanghai University of Finance and Economics, Mr. Xue Taohai, Executive Director, Vice-general Manager and CFO of China Mobile Ltd., Doctor Zhang Weiguo, the member of IASB(International Accounting Standards Board), and Mr. Zhou Qinye, the former Vice-general Manager of Shanghai Stock Exchange.